The dynamic behaviour of materials presents a number of theoretical, numerical and above all, experimental challenges. The response of a system varies markedly with the rate at which a stimulus is applied. Such stimuli vary from quasi-static to shock waves where accelerations of the order of 1011 g (gravities) are experienced. The fracture group of SMF has developed a range of diagnostic techniques to collect high-quality data and provide insight into fundamental physical processes.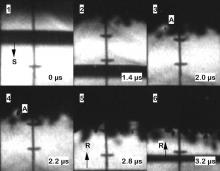 Research Areas for Development
The dynamics of foam, granular and composite systems. These materials pose strong theoretical and practical challenges, defining and measuring the fundamental processes such as void collapse, fracture, internal displacement
High-rate temperature studies. With rapid compression, materials heat, the amount of energy manifested as heat is important in defining the equation of state of a system. A long term aim is to develop high-speed, high-accuracy temperature systems which can be used over a range of material types e.g. opaque, transparent, porous
Structural effects. Phase changes are associated with materials under high-pressure in a variety of disciplines, planetary science, chemical processing. Using high-speed x-ray systems in conjunction with stress and optical techniques provides a powerful method for understanding material behaviour.
Predictive modelling is dependent on understanding of the processes in materials and complex systems. By performing small, high-precision experiments we aim to develop theoretical understanding and provide practical data to a wide range of systems. Current projects include links to space exploration, oil and gas exploitation, safety and energy efficient replacements for older, heavier technologies.